Search Results
Listings on this page:
All our listings:
20 listings found for that search. (Viewing: 13-20)

|
Bedrooms
2 + detached guest studio -
Baths
1.5 |
Price
$625,000
"Far East" - newly renovated, 2 bedroom cottage with detached guest studio. Huge property completely fenced for privacy...your own private compound. PRICE REDUCED!
|
Bedrooms
4 -
Baths
3 |
Price
$625,000
OURS EXCLUSIVELY! This large, completely renovated, two story contemporary home has a new,large kitchen, dinning room and sun-filled living room - all on the main living level, including a full bathroom with washer/dryer! Second floor has 4 bedrooms, all with vaulted ceilings - and two full bathrooms with skylights! Gorgeous bamboo floors throughout! Sunny back deck - large property!
|
Bedrooms
2 -
Baths
1 |
Price
$650,000
PRICE JUST REDUCED! Charming two bedroom country cottage right on the Great South Bay with beautiful plunge pool...huge deck, nicely furnished, gourmet kitchen with top of the line appliances...a cook's delight! Gas grill & outdoor hot and cold shower for two! Property fenced with an excellent location in the West End of Cherry Grove.

|
Bedrooms
3 -
Baths
3 |
Price
$750,000
Contemporary 3 bedroom, 3 bathroom, 2 story home on the East End of Cherry Grove with very large rooms with convenient access throughout the house to outdoor decks and terraces. Water views of the bay and ocean from terraces. Master suite has gas fireplace, oceanside and bayside balconies with views, and large full bath, storage/mud room. Living room and Dining room separated with a decorative fireplace, full size kitchen with breakfast nook. Cedar inside and out, with floors of whitewashed hardwoods.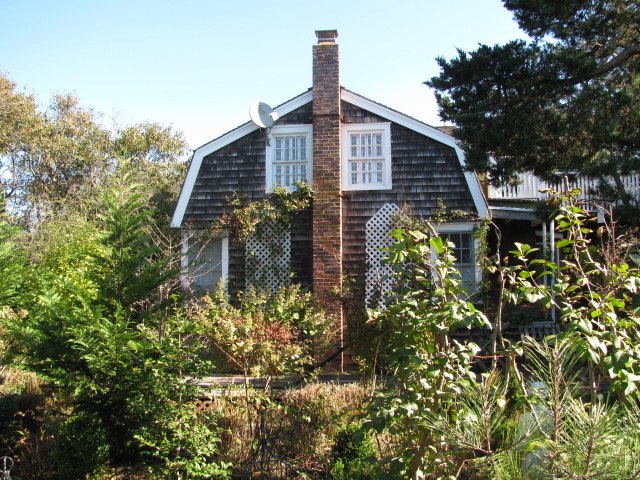 |
Bedrooms
5 -
Baths
3 |
Price
$795,000
OURS EXCLUSIVELY! Historic "Pride House" is located on one of the highest elevations in the Grove on the charming West End. This lovely house has all the original charm of a country home, featuring 3 bathrooms, 5 bedrooms, wood burning stoves, French doors opening on to lovely decks. Original pine plank floors with contemporary kitchen. Partial basement, out door shower. Spectacular gardens on an extra large lot with mature perennial plantings & French bronze fountain. This one-of-a-kind home will also produce excellent rental income.

Large, buildable oceanfront lot. Located on the East side of the Grove. Build the beach house of your dreams!!
|
Bedrooms
4 -
Baths
3.5 |
Price
$875,000
Brand new renovation, completely clad with harvested Cypress...with 4 bedrooms and 3.5 bathrooms! Large corner lot very close to beach access. This two story home offers bedrooms on the main level and living/dining/kitchen on the second level! Sustainably grown oak hardwood floors throughout. Interior walls and ceilings are pine - not sheet rock! Two outdoor decks...lots of windows and sunshine!!

|
Bedrooms
4 -
Baths
3 |
Price
$899,000
FIRE ISLAND PINES! PRICE REDUCED! Contemporary 4 bedroom/3 bathrooom home on large lot - completely fenced for privacy, West end of the harbor in Fire Island Pines! Great kitchen, formal dinning room - open living room for entertaining and magnificent, sun-drenched pool and surrounding decks. Outdoor shower, new laundry, heat and a/c.